27/08/2010
People's Manifesto for Bihar
Patna,(BiharTimes): Perhaps for the first time in the state a process for preparing "People's Manifesto For Bihar" was initiated much before any political party released it for the coming Assembly election. And the credit for this goes to BiharTimes and Greenpeace India, which along with the civil society groups, discussed it in details at Maurya Hotel on Wednesday.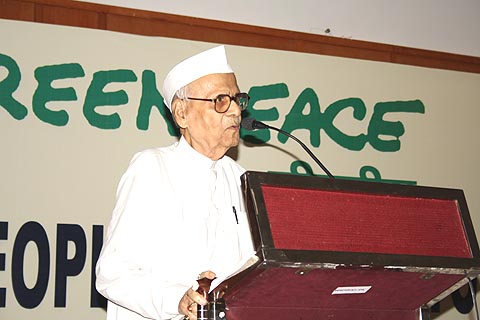 The organizers invited leaders of different political parties, officials, academics, journalists, social activists, citizens etc for this occasion.
Welcoming the guests Ajay Kumar, Editor BiharTimes said that "we are on demand side but we are unable to raise the problem. We have forgotten our problem."
Ajay Kumar raised the issue of migration and said that not all of them are bad. Only the stress migration is detrimental for the society, but our politicians do not have any idea about it and thoughtlessly talk about stopping it. He said that the state earns Rs 10,000 crore annually in the form of remittance and the life-style even in the remote pockets of Bihar has changed because of migration.
Ramapati Kumar of Greepeace India reminded the political parties that the Resurgent Bihar can chart out an alternative development pathway via decentralized energy infrastructure to provide for the energy needs of the rural population in equitable and sustainable manner.
Bihar needs an energy revolution now and decentralized renewal energy can fuel the change. He also called for the alternative energy such as solar energy for which there is enough scope in Bihar.
He said people of Bihar are expecting politicians to demonstrate the leadership and showcase the solution in the form of decentralized renewable energy.
Speaking on the occasion former Union minister and chairman of the Manifesto Committee of the Congress Party, L P Shahi, said earlier politicians used to dominate the bureaucrats on policy formulation.
The 90-plus years old seasoned politician quoted from the day's newspaper to state how changes are taking place elsewhere in the world, including nehighbouring China.
Shahi, who first became minister in the ministry of late Shri Krishna Sinha in Bihar in 1957 recounted how manifesto used to be so important in the past.
He urged the political parties to adopt changes taking place in the world for the policy formulation so that it could not look outdated.
Manoj Kumar Srivastava, the 1980-batch IAS officer, said that all political parties talk of good governance but their concept is not clear. He mentioned that, once BJP leader Lal Krishna Advani had talked of good governance as the more important factor than ideology.
He also ridiculed the system in which a young IAS officer has been entrusted with the responsibility of everything in the district. To buttress his point he cited a couple of examples to show how ignorant these officers are. "How can you expect a young man who competed after studying Urdu, Persian, Physics, Chemistry etc to know and take decision about things which he or she has no idea whatsoever," he added. "Why an agricultural or animal husbandry officer not allowed to take policy decision, instead of looking towards the district magistrate," he asked.
Former Advisor, Bihar Farmers' Commission, R K P Singh said in his address that inappropriate remunerative pricing and lack of storage facilities are some of the main problems the farmers are facing. The tragedy is that the state government was doing nothing in this regard. In fact the agricultural scene has become very dismal over the years.
Janata Dal (United) leader, Shyam Rajak, talked about the poor condition of the thermal power plants at Kanti and Barauni in the state. He added that poor quality of coal supplied by the Centre for the last many years had adversely affected these two plants.
The State president of the BJP, C P Thakur, said that energy is more important than other issues. He agreed that care should be taken about the environment, but in Bihar where there is no industry, no power plant "first let us produce something than talk about pollution."
He pointed out that Bihar was at the third place in energy production at the time of independence but now there is no light in the state. He conceded that nothing much had been done in this regard.
He took a potshot at the then Prime Minister Atal Bihari Vajpayee––of course without taking his name––by stating that as the Union minister of Water Resources Development he went to Nepal to talk about the problems of flood and excessive water. However, immediately after his return to India he was shifted to the Health ministry and the talk never progressed.
Talking about election manifestos released by political parties, he said, rather mockingly, that nobody looks back towards it after it is prepared.
Kamlesh Sharma of the CPI (ML) attacked the state government for its policies. He said that if a large chunk of money comes to Bihar in the form of remittance, Rs 1,600 crore is sent outside by parents to their children studying outside the state.
He tore apart the state government's claim about development and said that the Nitish government had not made a single regular appointment. It has only been making contractual appointments.
He said that not a single government in the last 63 years had the courage to undertake the land reforms boldly. The present government constituted land reforms commission but than instead of implementing its recommendations it backtracked and the chief minister is repeatedly begging for forgiveness.
Prof Vinay Kanth, noted social activist and intellectual, strongly denounced the state government's move to undo what has been done in the field of Right to Information in Bihar.
Prof Nawal Kishore Chaudhary of the Department of Economics of Patna University openly challenged the state government's claim about the growth rate. With the help of official data he made it clear that the growth rate was not 11.03 per cent as claimed by the state government but only 4.72 per cent.
Prof Chaudhary went on to state that Bihar witnessed 17 per cent fall in the agriculture growth last year. How can then the state grow by over 11 per cent when agriculture is the mainstay of its economy?
The BSP leader, Rahul Singh, held the permanent executive, that is bureaucracy, more responsible for the present sorry state of affairs, than the political executive, who can be voted out of power within five years.
It is not that the politicians make bureaucrats corrupt; rather they want to become so. If they refuse to oblige to their political masters the latter can do nothing.
The former president of the Bihar Indusries Association, K P S Kesri, said that there are 25 lakh power connections in Bihar, but only 15,000 are for industries. Out of these, 12,500 are for small-scale industries. And out of 2,500 non-SSI units half are closed. Thus one can imagine the situation in the state. He regretted that 55 years ago his village had power supply but 25 years back it went never to return.
He, however, refuted that solar energy is a better alternative stating that it would be too costly for the consumers.
He said that in Bihar there is no industrialist, only entrepreneurs. However, he thanked the NDA government for the slight improvement in the law and order situation.
Intervening in the discussion Soroor Ahmed, journalist, said that one must take into account the sheer wastage of power and other sources of energy. True, 55 years back some Bihar villages might have electricity, but now there is hardly any. The reason is very much there to see.
Then the chief minister used to have a couple of fans, a few bulbs and tubelights in his residence. Now all the ministers, bureaucrats and even smaller functionaries have more than one air-conditioners in their chambers and all the electronic goods are available for their luxury at home. All these are at the cost of the poor people of Bihar.
Soroor Ahmed said that it is a cruel joke that in a power deficit-country like India so many energy is wasted to lit-up stadiums where day-night cricket matches are held. Why not play cricket in the day as in the past. These industrialists are minting money by hosting such extravaganza while our children are not getting electricity to study.
He recalled how police fired, causing casualties, at the agitating farmers in Sriganganagar in Rajasthan, who were demanding better irrigation facility during the 2007 Champions Trophy tournament. In contrast Jaipur, the state capital, hosted a few day-night matches at the height of that tournament.
Aparna of Greenpeace India proposed vote of thanks.
I appreciate initiative of Bihartimes for highlighting the issues which almost all parties have been ignoring and it is not wrong to say that this is the right time to force parties to incorporate the points while preparing their manifesto. I dont know how far Bihar manifesto will impact over parties in giving weightage to imporatnce of power, without which thought of development of the state will hardly be materialized. Each and every individual, organization have equal role to participate in making Bihar Prosperous hence all aspects need to be cansidered.
Propagation by ruling parties of their achievments and opposition role to highligt the wrongdoings of ruling parties reach to people through media so such event also make aware them media inference about the achievents of both ruling and oppositon parties. I hope that Bihar manifesto should become manifesto of the parties which believe in strength of power which is no doubt instrument in state progress.
Mumtaz
---------------------------------------------------
I would like to congratulate ajay bhai and his team for such a nice move, to draw the attention of right thinkers towards the real issues and its solutions, hats off to bihar times for taking such an initaitive, please keep the sprit alive !
Reagrds
Dr Anwer Ahsan
Dammam, Saudi Arabia
-----------------------------------------
I highly commend the initiative of Bihartimes (Mr Ajay Kumar) and Greenpeace India for this initiative, the first of its kind to my knowledge , where speakers from a broad social and political spectrum had an opportunity to express their views freely and candidly. It is not a question of agreeing or disagreeing with some of the views expressed but more important is the platform provided by the meeting, particularly when on the one hand ,the people's voices are lost in the cacophony of claims and counter-claims and low-level and personalized allegations and counter-allegations indulged in by the leaders of practically all hues and on the other hand, media, one of the pillars of democracy, is suffering from the malaise of Paid News( a question mark on its impartiality and objectivity) so much so that the Press Council of India is reported to be engaged in a cover-up and is trying to scuttle the report of the Committee it itself appointed on the subject , leading to an uproar in Parliament recently.

Ramadhar,
Patna
------------------------
Keep on Progressing
Thank you for organizing a thought provoking event like this. These kinds of events educate the masses to know the reality, to know the challenges, to know the rights of people of Bihar and to come up with smart solutions
These kind of events should be held in every constituency and is a excellent medium to get people educated.
People who make a difference are the ones who do not give up, but find a way to get to the solution.
These events will have people thinking of the solutions which is appropriate for the challenges in thier constituencies. towns and villages.
Ramesh Yadav
---------------------------------------------------
Another useless exercise by self gratifying so called intellectuals of Bihar.
Recent survey by the UN shows that Bihar, along with few other states in India, has the development index at the bottom in the whole world. In fact Bihar is ranked with countries like Congo in Africa when it comes to malnutrition and illiteracy. Other African countries such Ghana are doing far better.
Now, countries like Congo are mired with civil war and have no established government. Bihar, on the hand, is supposed to have stable democratic government!
So why should Biharis care about these intellectuals and look up for leadership? The state will not loose anything if they cease to exist.
-Rajesh
------------------------------------------
This is high time for all those who love Bihar to take up this challenge to putup their demands before our political parties. That would make them accountable. My full support to Bihar Times effort and would send my suggestion and feedback to them. Creat this forum a powerful pressure group to initiate accountable democracy in Bihar. Perhaps this is the only way to participate in this election for people like us who are away from their motherland.
Ravi Prakash
USA
---------------------------------------------
A THOUGHTFUL ACT BY BIHAR TIMES :
I would like to congratulate Mr.Ajay Kumar and Mr.Soroor Ahmad for the courageous act of voicing people's concern in public through their seminar.I vouch for the non political speakers like Prof Nawal Kishore Chaudhary and Manoj Kumar Srivastava who made useful points in favor of the people of Bihar.The politically motivated data slinging act of our chief minister holds no ground , people who understand data manipulation know the growth rate was never more than five percent. As for the good governance plea by the present rulers , there is nothing good about the ruling , people of the state were never more humiliated, shackled and helpless.
With all due respect to the organizers of the seminar , the problems raised at the podium were not new to us. And with the participants like C.P.Thakur and Shyam Rajak widely considered as the part of the problem and not the solution , the effectiveness of the program was destined to be doomed.
Bihar needs freedom , freedom that the people need from the corrupt system, the politicians , the bureaucrats and the thugs in the corridors of power.
I have lived and worked in many developing and developed states , and none of them have a government even remotely resembling to the one we have , where a clerk can hold a file for as long as he wants under a million official pretax at his legal disposal leaving the poor citizen with only one option : BRIBE.
Yes Bihar has the talent and resource to be self sufficient in energy , agriculture, education and industrialization but the biggest hurdle is the NON-SUPPORTIVE CORRUPT government . As long as the people of Bihar do not rise and fight to eliminate this cancer , there is no hope for us. We need to fight this battle sooner or later.
ARSHAD MOHSIN
-------------------------------------
Congratulations!! Shri Ajay Ji for your commitment to Bihar and the real developmental issues in true sense. Your initiatives and highlights are better than many administrators who ruled Bihar for so long time! I hope this kind of convention may get notice to our existing political parties who have high stakes in Bihar after Assembly elections.
Long Live Bihar Times/ Long Live our Bihar
Hari
Sweden
----------------------------------------------------
Many many thanks to Bihar Times and Greenpeace who organised such programme to communicate the status and potential of Bihar to all audience.This type of programme really make public, politician and beaurocrat to act judiciously. Collaborative steps by mass, media, politics and beaurocrat could help Bihar to act in right direction. There shoud be one platform where all these four pillars get-together and exchange their views. It is very important to have harmony among all these for true development.
If such type of programme could be broadcasted through TV/radio channel more and more public of Bihar could understand the importance of manifesto. Regional TV/radio channel can contribute lot for this cause.
Anil Kumar
Chennai