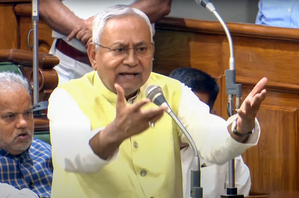 Patna, Nov 10 (IANS) Even as Bihar Chief Minister Nitish Kumar is facing criticism over his remarks on women, leaders of his JD-U came out in his support and brought biology textbooks of Class 12 in the Bihar assembly on Thursday.
Leaders like Minister Ashok Choudhary, Lesi Singh, and Sheela Mandal, held up the textbooks and claimed whatever the Chief Minister had said is mentioned in the book.
The JD-U move drew a sharp reaction from BJP MLC Nivedita Singh, who launched a fresh attack on Nitish Kumar. She also said content related to sex education starts in Class 9 but Choudhary was showing the book of Class 12.