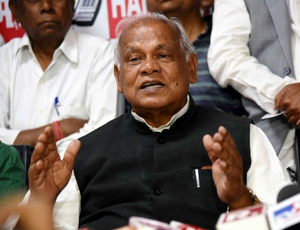 Patna, Nov 10 (IANS) A day after Chief Minister Nitish Kumar humiliated former CM Jitan Ram Manjhi, the latter on Friday sat on dharna outside the chamber of Speaker Awadh Bihari Choudhary.
Manjhi was supported by BJP leaders during the dharna. Some of the BJP legislators of BJP were sitting with Jitan Ram Manjhi outside the chamber of Speaker and many others were sitting in the portico of Bihar Assembly.
"The way CM Nitish Kumar humiliated former CM Jitan Ram Manjhi was extremely unfortunate. We want an apology from the chief minister. Humiliating a senior leader inside the temple of democracy is not acceptable. It was more shocking that the Speaker turned silent on this issue. He is a patron of the Bihar Assembly but he was taking the side of ruling parties," said Tarkishore Prasad, BJP MLA and former deputy chief minister of Bihar.
"Every legislator is respectable and has equal rights in the Bihar Assembly and it is up to the Speaker to ensure the same is not violated. On Thursday, Jitan Ram Manjhi was making his point on government jobs for Scheduled Caste, but he was not allowed to talk inside. CM NItish Kumar not only interrupted him but also humiliated him which was extremely unfortunate," Prasad said.