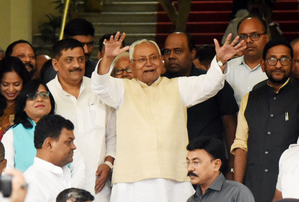 Patna, Nov 12 (IANS) Nitish Kumar, a tall leader of Bihar who built his image as the 'Sushasan Babu (good governance man)' of the state through all the good work that he did for every section of society, has now tarnished his aura through recurring gaffes and the recent 'gandi baat' in the House, that, too, when the 2024 Lok Sabha elections are just around the corner.
The Chief Minister of Bihar, while explaining reservation on the basis of the caste census, unnecessarily brought population control in his speech in the Assembly and Council recently. The explanation by Nitish Kumar created a furore inside and outside the House.
Not only did it bring embarrassment to his party, he faced criticism for his inappropriate words even from abroad. Right from African-American actress-cum-singer Mary Millben, to Prime Minister Narendra Modi, a whole lot of people slammed Nitish Kumar for his speech.
Nitish Kumar may have made an inappropriate speech for the first time in his long political career of 46 years, but of late he has been making many errors during his speeches at public events.
Last month he stunned everyone at a function by calling himself "Faltu Mukhya Mantri."
It all began when he absent-mindedly called the Bihar Chief Secretary Amir Subhani "chief Mukhya Mantri" while addressing the gathering at an event of the Panchayati Raj Department in Patna.
When the officials present there pointed out the error, Nitish Kumar corrected himself but ended up calling himself "Faltu Mukhya Mantri."
"When we decided to build the Panchayati Sarkar building in the state, we wanted its speedy construction. However, it did not happen according to our expectations. We have built 1,517 buildings and construction is underway in 857. When the World Bank learnt about the Panchayat Sarkar building, they were highly pleased and offered to provide financial help in making 330 buildings," Kumar said.
He then went on to say, "Chief Mukhya Mantri Ji is here." When he was corrected by the officers present he said, "The Chief Secretary is here. I am the Chief Minister Faltu..."
This slip of the tongue by the Chief Minister became a major point of discussion and ridicule in the political circles of Bihar.
Before that, at a Janata Darbar, he asked the officers to make a call to the Home Minister. The officers present there were flummoxed because Nitish Kumar holds the Home portfolio also. But apparently this little detail slipped his mind and he kept on asking the officials to call the Home Minister. In the end, the officers called a senior IAS officer.
At another event, Nitish Kumar claimed that when he held the post of the Union Home Minister he gave reservation to sportspersons.
The fact remains that Nitish Kumar never held the post of Union Home Minister in his entire career. He was the Union Railway and Agriculture Minister.
Soon after the major embarrassment he suffered due to his unwanted explanation on population control, he humiliated former Chief Minister Jitan Ram Manjhi. Even though his ministers, including Vijay Choudhary, Tejashwi Yadav, Vijendra Yadav and Ashok Choudhary were trying to stop him mid-speech but they failed to do so, resulting in major criticism of the veteran leader for his behaviour towards Jitan Ram Manjhi.
Nitish Kumar after separating from the NDA was instrumental in forging Opposition unity in the country and many people said that he was aiming to become the prime ministerial candidate of the Opposition or at least the convener in the newly-formed INDIA bloc.
However, his frequent gaffes are making things difficult for his alliance partners and the Opposition leaders in Bihar, particularly the BJP leaders are claiming that he is becoming mentally sick.
"I have known Nitish Kumar for 40 years but I have never seen him angry like this. First he used inappropriate words while unnecessarily dwelling on the issue of population control in the Assembly and now he has humiliated Jitan Ram Manjhi. He is not a man of such a nature," said Sushil Kumar Modi, the Rajya Sabha MP of BJP.
"Nitish Kumar, through his vulgar words, raped the women sitting inside the Vidhan Sabha and Vidhan Parishad. When Draupadi was humiliated the ministers of that kingdom were silent. When people of Bihar ask us what we did at that time, how will we face them," said Nivedita Singh, BJP MLC, who was present in the House when Nitish Kumar delivered his infamous speech.
"All the women of Bihar are feeling ashamed and insulted. After his statement, women will hesitate to go to his rallies," said Samrat Choudhary, the BJP state President and MLC, who was also there.
"What has happened to Nitish Kumar? When he was with the BJP he behaved decently, but after joining hands with the RJD and the Congress, he seems to be losing the plot," he said.
However, Nitish Kumar's alliance partner RJD and its leaders are standing behind the JD(U) leader.
Shivanand Tiwari, the National Vice President of the RJD said, "I am not saying that Nitish Kumar has harmed his prospects ahead of the 2024 Lok Sabha polls. He said some wrong things and he apologised for it later. The Opposition may play it up to get political mileage out of it, but the fact remains that Nitish Kumar has done many good things for women in his political career. He has given 50 per cent reservation in Panchayati Raj for women and also quota in jobs.
"Recently, he gave jobs to 1.22 lakh teachers and 50 per cent of them were women. He has recruited a large number of women cops in Bihar Police. He has brought many welfare programmes for women and girl students through scholarships and encouragement money."
"The BJP has nothing going for it in Bihar hence the party is highlighting this issue. They are thinking that it will remain a big issue till the Lok Sabha elections in 2024. I agree that what he said in the House should not have been said. He could have explained the population control theory in another way. Maybe, if he had said the same things in English, such a hue and cry may not have been raised. However, despite everything, his work for the welfare of women is impressive as is his image among women voters," Tiwari said.