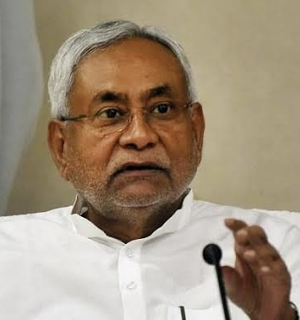 Patna, Nov 12 (IANS) Chief Minister Nitish Kumar, who was once hailed for developmental schemes in Bihar which were also implemented by other states, is now in the eye of a storm for his recent derogatory remarks against women in the Assembly.
Nitish aka Sushasan Babu's recent statements have dawn criticism from various quarters with some calling him mentally ill while others said he is suffering from memory loss.
During the winter session of the Assembly, Nitish had made vulgar remarks while dwelling on the role of women's education in birth control.
When he realised his mistake, he not only criticised his own statement but also apologised for it.
Political analyst Ajay Kumar said there is no doubt that Nitish's remarks have dented his image. He said that Nitish has also drawn flak as he insulted Jitan Ram Manjhi in the Assembly.
During Nitish's tenure as chief minister, women got 33 per cent reservation in government jobs which helped him get their votes.
Earlier, to woo the Dalits and Mahadalits, the JD(U) used to say that Nitish made a Dalit man a chief minister. But now with Nitish's remark that he was stupid to make Manjhi the chief minister, the JD(U) won't be able to quote that.
JD(U) leader and Bihar minister Shravan Kumar said that now politics in Bihar is based on development. The state talks about brotherhood and cooperation, he said.
Shravan said that had Manjhi taken the right path, things could have worked in his favour. Despite being given all the powers, he could not save his dignity.
BJP spokesperson Rajesh Kumar Singh has termed Nitish as "memory loss" chief minister. Since his alliance with the RJD, Nitish's attitude has changed, Singh added.