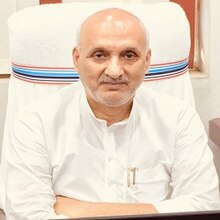 Patna, Nov 14 (IANS) Bihar Education Minister Prof Chandrashekher, while commenting on the killing of a Sub Inspector (SI), on Tuesday said that such an incident is not in Bihar and such incidents also take place in other states like Uttar Pradesh and Madhya Pradesh.
The deceased SI has been identified as Prabhat Ranjan. He was mowed down in Jamui area of Bihar.
"Is it a new incident? Is it the first incident? Such incidents keep on happening here. It is not new. Did such incidents not happen in Uttar Pradesh and Madhya Pradesh?" Chandrashekher said while talking to media persons.
Prabhat Ranjan, a native of Bihar's Vaishali district was posted in Garhi police station in Jamui. He was a 2018 batch sub-inspector.
On Tuesday, he was leading a police team during patrolling in their jurisdiction, when he and a home guard signaled a tractor laden with sand to stop, instead of stopping the vehicle, the driver mowed them down.
Prabhat Ranjan died on the spot while the home guard was critically injured in this incident.
Bihar Deputy Chief Minister Tejashwi Yadav said he has no knowledge about the incident.
Earlier, a sub-inspector Nand Kishore Yadav was killed during gun fight with cattle smugglers in Bihar Samastipur district. He was a native of Araria district.
A constable Amita Bachchan was also shot dead by three criminals in Bihar's Vaishali district. He was a native of Munger district.
A home guard was killed by liquor mafias in Bihar Motihari district in July this year.
Another home guard was mowed down by sand mafias in Bihar's Aurangabad district on November 1.