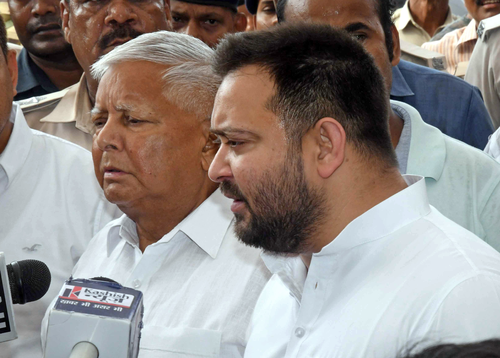 Patna, Nov 14 (IANS) RJD National President Lalu Prasad Yadav on Tuesday slammed MoS Home Nityanand and BJP leader Ram Kripal Yadav and said that the BJP is trying to divide Yadavs in the states ruled by it.
While addressing a gathering during Govardhan Puja celebrations in the Iskcon temple in Patna, Lalu Prasad Yadav said that everyone knows the situation in the country at present.
"Everyone knows how the ruling parties are doing 'adharm' in the name of religion in the country. They are misusing the name of Lord Krishna and religion to retain power. We have to pledge to stop such practice and walk on the path shown by Lord Krishna. Then we would be able to protect our countrymen," Yadav said.
"The BJP is holding a 'Yaduvanshi Milan Samaroh (Yaduvanshi community event)' in Patna. They do not see anything apart from Lalu Prasad Yadav. Nityanand Rai is doing politics over it," Yadav said.
"Nityanand Rai was earlier a contractor and Ram Kripal Yadav was running a fleet of three wheelers at the Patna bus stand. He was involved in grabbing hotels in Patna during my government in Bihar. I learnt about his activities after my tenure. He was involved in defaming Goria Toli where he lives in Patna," Yadav said.
"The BJP is trying to divide Yadavs in Bihar. Nityanand Rai had earlier tried to join the RJD. The leaders of BJP are dreaming about him becoming the chief minister of Bihar," he added.
While launching an attack on Nityanand Rai and Ram Kripal Yadav, Lalu Prasad Yadav said, "Nityanand Rai used to organise a cattle fair and transport cows and bulls for slaughter in other places. A MLA of that place knew about his activities but did not reveal them at that time out of fear. Slaughtering of cattle, cow, buffalos and bulls is the business that Nityanand Rai does. We consider the cow our mother in India and you are slaughtering cows and still taking the name of Lord Krishna. Nityanand Rai was also involved in land grabbing."
"If Tej Pratap Yadav stands for election against you, your deposit will be seized. You are taking the name of Narendra Modi and doing an event in the name of Lord Krishna. What is Narendra Modi," Yadav said.
"Just like Lord Krishna helps weak people, our government has given 75 per cent reservation to the underprivileged in Bihar. We have given lakhs of jobs to teachers in Bihar," Yadav said.