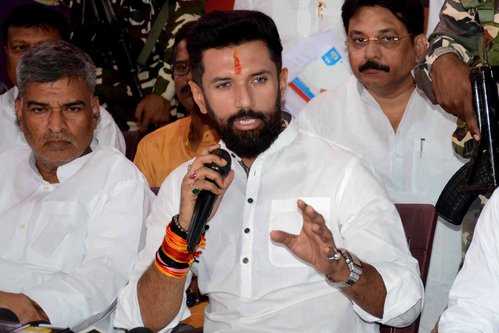 Patna, Nov 17 (IANS) A day after Bihar Chief Minister Nitish Kumar demanded special status for the state, Lok Janshakti Party (Ram Vilash) President Chirag Paswan on Friday said that such a demand reflects failure of his governance.
"Nitish Kumar is ruling the state for last 18 years and still demands a special status. It reflects his failure. What he has done in the last 18 years. Why has he failed to build an infrastructure by which Bihar can become self dependent and can generate adequate revenue from the available resources?
"After 18 years, looking towards others for financial help is a reflection of the failure of his government. I want to ask the Chief Minister to point out one state owned programme where the revenue of the state has increased," Paswan said.
He said that it is a shame not only for Nitish Kumar but for the entire alliance which has been ruling the state for the last 34 years.
"Bihar does not want special status. It is a political gimmick of Nitish Kumar as Lok Sabha and assembly elections are around the corner. He wants money for the election. I want to ask him to provide details of the money the Centre has given for various projects and how much has he spent and how much was returned to the Centre," Paswan said.
He asked that why the Chief Minister not demanded the special status for Bihar when there was a double engine government in the state.
On Thursday, Chief Minister Nitish Kumar said that he will start a movement against the Centre if his demand for Bihar's special status was not met.
He said that he will also embark on a Yatra across the Bihar to take public opinion on special status.
He also claimed that if special status is given to Bihar, the development programmes which usually take five years can be completed in just two years.