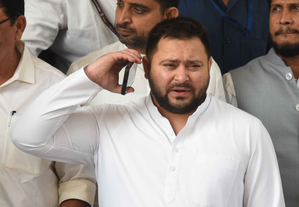 Patna, Nov 16 (IANS) After Union Minister Nityanand Rai held a Yaduvanshi meet in Patna a couple of days ago, Deputy Chief Minister Tejashwi Yadav claimed that the BJP was trying to divide Yadavs, but would not succeed.
"In democracy, anyone can do anything. BJP is also making efforts to divide Yadavs. They can try to divide Yadavs, but it would not help them. BJP will not succeed in its efforts," Yadav said.
On November 14, Nityanand Rai, the Minister of State, Union Ministry of Home Affairs, organised a Yaduvanshi meet in Patna's Bapu Sabhagar and slammed Lalu Prasad.
He compared Lalu Prasad with 'Kans' and he himself claimed to be the successor of Krishna.
Nityanand Rai said that Lalu Prasad made the Yadav caste "a symbol of fear" during his 15-year rule in Bihar.
The central minister also targeted Bihar Chief Minister Nitish Kumar and compared him with 'Dushasan' following the latter's anti-women statement in the Bihar Assembly during winter session.