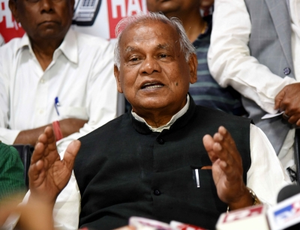 Patna, Nov 16 (IANS) Former Bihar Chief Minister Jitan Ram Manjhi, after the alleged scam in teachers' recruitment, has now accused CM Nitish Kumar and Dy CM Tejashwi Yadav of a postings scam.
He said that the Nitish-Tejashwi (Chacha-Bhatija) government is giving postings to the successful non-state candidates in urban areas while the candidates from Bihar are given postings in rural areas.
While uploading a post on social media platform X, Manjhi said: "After committing scams in the recruitment of teachers, now they have started posting scams. They are taking huge sums of money (Mota Maal), they are posting the candidates of other states in urban areas while posting BIhari candidates in rural areas. Money has great power. I don't know, Chacha-Bhatija eat food or currency notes."
Earlier, Manjhi levelled allegations against the Nitish-Tejashwi government of a big scam in the recruitment of teachers. He said that many candidates who had obtained more than passing marks were not recruited while candidates having lesser marks got jobs.
The Bihar Public Service Commission (BPSC) had issued the notification for 1.70 lakh posts of teachers from class 1 to 5 and class 9 to 12 in July and the examination was held in August this year. Out of the 1.70 lakh posts, BPSC had announced the results for 1.20 lakh posts. NItish Kumar gave the appointment letters on November 2 this year.