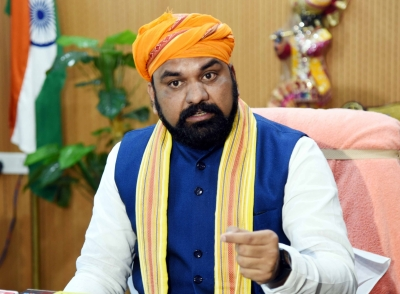 Patna, Nov 16 (IANS) Bihar BJP president Samrat Choudhary on Thursday asked Chief Minister Nitish Kumar to undergo treatment for his health, and not worry about a special status for Bihar.
The statement of Samrat Choudhary came at a time when Nitish Kumar has once again demanded a special status for Bihar from the Central government during an event organized by the industry department of the state government. He said that if the Centre gives special status to Bihar, the development work taking place in five years would be completed in just 2 years.
"Nitish Kumar demanded the special status for Bihar with folded hands, I want to hold his feet and ask him to undergo treatment first and not worry about the special status for the state," Choudhary said.
"The two brothers Nitish Kumar and Lalu Prasad Yadav have ruled the state for the last 33 years. The former ruled for the last 18 years while the latter ruled the state for 15 years and both have committed great sins against Bihar. The people of Bihar will teach them a lesson in the upcoming elections," Choudhary said.
Nitish Kumar during the winter session of the Bihar Vidhan Sabha had passed anti-women remarks that led to outrage among all sections of society in the country. Even Mery Millben, the African-American actress cum singer, criticized Nitish Kumar for his statement. Kumar also humiliated former Bihar CM Jitan Ram Manjhi.
Following these two statements, NDA leaders launched an attack on Nitish Kumar and said that only a mentally sick person can make the statements he did in the Bihar assembly and council.