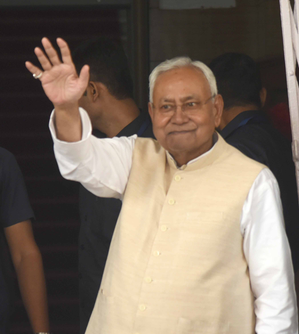 Patna, Nov 20 (IANS) JD-U and RJD on Monday slammed Prime Minister Narendra Modi for attacking Bihar Chief Minister Nitish Kumar. The Prime Minister Modi had criticised the Chief Minister for his alleged anti-women and anti-Dalit remarks.
"PM Modi has given statement against the Chief Minister Nitish Kumar. I want o ask him to clarify why would he say when BJP leader Haribhushan Thakur Bachaul had once humiliated Jitan Ram Manjhi, saying that his name should be changed from Jitan Ram Manjhi to JItan Rakshash Manjhi. While another BJP had announced reward for slit the tongue of Jitan Ram Manjhi," JD-U spokesperson Abhishek Kumar Jha said.
He said that the Central government has closed the scholarship programme in the name of Bihar's biggest Dalit leader Babu Jagjivan Ram.
"What kind love they have for Dalits. Nitish Kumar is the one who made Jitan Ram Manjhi chief minister of Bihar. Can we deny this? But Jitan Ram Manjhi again had an alliance with BJP," Jha said.
Ejaz Ahmed, RJD Spokesperson, said that Delhi Police is under control of the Central government.
"What it did with the great Dalit leader Ram Vilas Paswan when they threw his belongings on the road after his death. Nitish Kumar gave respect to Dalit community and leaders. He made Jitan Ram Manjhi chief minister of Bihar," Ejaz said.
PM Narendra Modi during his rally in Pali Rajasthan had targeted the Bihar Chief Minister Nitish Kumar saying that the leaders of "Ghamandia" alliance enjoy humiliating women and Dalits.
"One such incident happened recently when the Bihar Chief Minister Nitish Kumar used such words for the ex-chief minister which common people cannot say. That leader of Ghamandiya alliance humiliated that Dalit leader from the floor of Bihar assembly and shockingly, Congress leaders stayed silent on it," Modi said.