How many festivals in India are held without pain to animals ? None. Diwali, Dusshera, Bakr Id, Kalipuja, Makar sankranti,Christmas…. The noise, the crackers, the animal killing, the kite flying, the cattle racing… millions of animals and birds die every time we " celebrate". Considering that most of these celebrations are around harvest festivals and the worship of nature's seasons, it seems odd that we have turned them into harbingers of death to all other species.
Take the Durga Puja in September/October
The Goddess Durga is exquisitely beautiful, Devi the supreme mother, the embodiment of feminine and creative energy that preserves moral order and righteousness .The 9 day Durga Puja is the biggest annual festival in Bengal, Gujarat where it is called Navratra, and Eastern India.
In Bengal people celebrate Durga Puja by making pandals. An idol of the Goddess is put in each pandal and worshippers dance before her to the beat of the Dhak drums.. A Dhak is a cylinder shaped wooden cask with both ends covered with goat skin and cow tails and decorated with feathers. Dhakis are professional drum players. In Kolkata, even a small pandal without a Dhak Bajna performance is unimaginable. Every makeshift tent has a 'dhak and there are over 2000 pandals in Kolkata alone..The festive season starts with Vishwakarma puja and the demand for dhak grows for six weeks, till the end of Kali puja .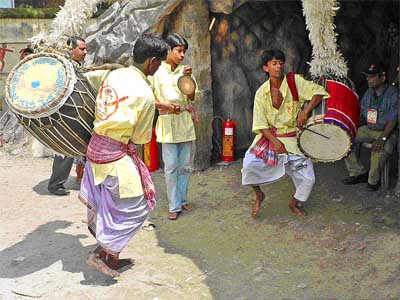 The dhakis are professional jobbers. This is when they will make their yearly money. The spirit of festivity is irrelevant to them. What is relevant is how to festoon their drums to attract attention and money from puja committees who compete with each other to have the most visited pandals. The more decorated the drum, the more the dhaki charges .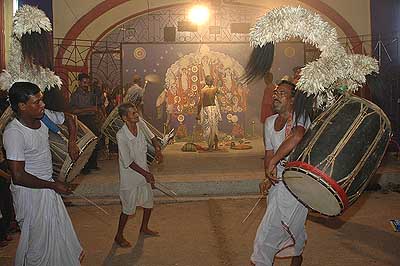 pix: Manish Sinha
As a result , every year Dhakis kill more than 40,000 egrets, pheasants, herons and open bill storks. Every year the killing increases. The main killings are in Murshidabad, Nadia, Burdwan, Birbhum and Bankura. The feathers of these wild birds – who are important pest controllers – are used to decorate the drums. All these birds are protected species and the openbill stork is endangered. It is illegal to trap,sell,hunt, buy or kill any Indian wild bird under the Wildlife Protection Act 1972.The crime is nonbailable and anyone convicted of killing a protected bird can be imprisoned for up to seven years and/or fined Rs 25,000.
Every year poachers shoot them with bows and arrows or trap them in nets and strangle them. These birds are sold in clandestine markets and their feathers are sliced and coloured . Why are so many birds killed ? Because only 10-15 flight feathers per bird of a certain size are used. More than 40 bunches of sliced feathers are required to make a feather tail for a drum and to make a single tail, 100 birds or more are killed.
The Communists are a law unto themselves and neither West Bengal nor Kerala could be bothered about any laws that protect animals in India. Therefore, their forest and wildlife department refuses to do anything. In fact for years they pretended that the feathers were chicken feathers ! When the Zoological Survey of India (ZSI) repeatedly identified them as egrets, herons, pheasants feathers, they came up with another excuse.
They said that the feathers fell off these birds naturally. In September, all the egrets and herons suddenly drop their feathers ? Does this make sense ? Birds do not shed feathers at once ( have you ever seen a bald adult bird ?) and certainly not when winter is approaching.
When wildlife activists proved that these feathers did not drop naturally , the forest officials acknowledged the mass killing but now said that this is a traditional ritual.
It is not. The pandals increases every year because it has become a way to show off. For each pandal, the number of drummers increases. So what used to be a few drums for a few pandals has now become a trade which runs into lakhs of feathers. The dhakis have increased tenfold over the last ten years and more than half are new to the trade.
The next excuse.: "It is the trade of the scheduled tribals to kill the birds." So no laws should apply to tribals who indulge in genocide ? Suppose the same tribal stole your television. Shall we say that this is his trade and we should encourage it ? The Sansi tribe that were declared as hereditary thieves by the British are still shunned by Indians today much after they have become decent citizens. Is stealing a television more heinous than poaching wild birds ?
Are the traders and the users protected as well ?. It is the traders that place the orders and buy and sell the "Bok"(egret) feathers and under the Act it is illegal to buy or sell animal parts . They are sold at Rs 300 – Rs 600 per kilo. Has the Wildlife department ever arrested anyone ? No, they are organizing an " awareness" campaign amongst the pandal committees to stop the use of feathers. A few arrests and the awareness would spread immediately but the politicians would much rather have votes than birds.
Wildlife department officials cannot lose their job even if all the birds become extinct , The Chief Conservator gave an interview in which he said that he could not take action unless he caught someone killing a bird or admitting to killing the bird. (So, no action can be taken against a seller of stolen goods ?) He said that he did not know whether the feathers were coming from. In the absence of information, he was helpless ! When he was informed about the areas he said that the divisional forest officers (DFOs) of Nadia and Murshidabad had been informed. Have they caught any poachers in all these years – considering the bodies of the defeathered birds are sold in all the village markets ? No.
The traders and dhakis are wellknown. It is a crime to buy and use wild bird feathers. Has a single dhaki been arrested ? No.
The state forest department plans to ban the use of feathers from next year. (This statement was made in 2006) Do they not know that it has been banned since 1972 and for 35 years the Indian Wildlife Act has been violated year after year in Bengal ?
Is this dhak going to sound the death knell of so many species ? Can the gods be worshipped with so much blood and suffering?

To join the animal welfare movement contact gandhim@nic.in
previous articles...
Consequences of Chloramphenicol in Shrimp Industry
Hazards of Trade in Peacocks' Feather
Supreme Court Ban on cruelty to Animals
The Goat That Laughed and Wept
Animal Owners' personality traits resemble their Pets'
Animal sacrifice at the altar of religion
Animal feed from rendering plant