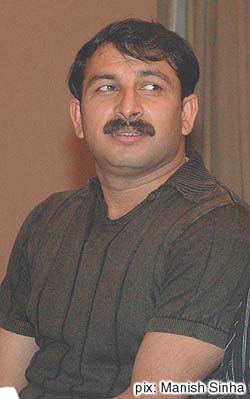 Mumbai, April 14 : Bhojpuri superstar Manoj Tiwari is on cloud nine as he has piped maestro Pandit Hari Prasad Chaurasia to be the Indian face on a Dutch postage stamp.
Dazed, delighted and quite disbelieving at the honour, Tiwari says the Dutch government's decision to issue a postage stamp with his face on it comes as a complete surprise to him.

"About a month back, I got a call from them (Dutch government) saying they needed my picture for a postage stamp. I guided them to my website and gave the matter no serious thought. When I got to know that they had actually issued a stamp with my face in the Netherlands I couldn't believe it," Manoj told IANS.

"Two Indian names were put forward for the honour. Pandit Hari Prasad Chaurasia and mine, the fact that I was chosen over a man of such stature and seniority fills me with both pride and humility."

The Netherlands has a sizeable population of Bhojpuri-speaking north Indians who regard Manoj as an icon.

"For an actor who belongs to a cinema that's seen as a poor country cousin of Bollywood, I feel I've contributed my bit. I felt all my years of working towards popularising the Bhojpuri language through films and by other means have paid off," says the Bhojpuri superstar, who sang more than 2,000 songs in Bhojpuri from 1996 until acting beckoned with a film.

"Sasura Bada Paise Wala" was made in 2003 with Manoj in the lead. "A three million rupees budget film made over Rs.200 million profit. Since then, there was no looking back."

The actor, along with Ravi Kissan, has been credited with reviving the Bhojpuri film industry.

"Not just Bhojpuri cinema, but I've been toiling tirelessly to promote Bhojpuri all over the world wherever there's sizeable Bhojpuri population, like in Mauritius and Surinam which is a former Dutch colony. I feel the postage stamp has a lot to with my popularity and the popularity of the Bhojpuri 'bhasha' (language) among Indians in Surinam and the Netherlands," says the actor in Hindi.

Manoj feels the pride for regional languages is evaporating in the north. "That is why I've opened Bhojpuri academies in various cities all over the world including Surinam. I feel the Bhojpuri that Indians speak in foreign countries is hybridised and incorrect," says the actor, who proceeds to the Netherlands May 22 to be honoured in person.

Manoj has now set his eyes on Bhojpuri cinema and language gaining credence all over the world.

"In Mauritius, where the Indian population dates back 150 years, I've been a regular visitor. In fact, I accompanied Bihar Chief Minister Nitish Kumar's contingent to Mauritius. If I say so myself, I paved the way for a political dialogue in Mauritius. Unfortunately, my work doesn't get the recognition that it deserves."
(IANS)