Patna, (Bihar Times): The labour shortage in the foodbasket of India is likely to persist in the coming kharif season. The labour intensive rice production may be hit hard in the states like Punjab and Haryana.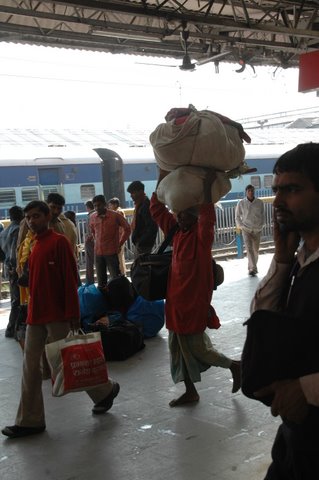 The labour shortage badly affected wheat lifting operations in the just concluded rabi season. Farmers' organisation like Bharti Kisan Union and the state government's agriculture department are now anticipating its adverse impact on paddy sowing and transplanting season.
According to BKU President Ajmer Singh Lakhowal the way the labour shortage is being experienced by the farmers, it is certain that it would hit the paddy transplantation in Punjab, which could result in reduction of paddy sowing area.
Reports say that the paddy transplantation in Punjab is scheduled to start from June 10 after the state government asked the farmers to avoid paddy sowing before the month of June in view of declining water table in the state.
Over 90 per cent of paddy sowing in Punjab is done by migrant labourers from Bihar and Uttar Pradesh. Their contribution in the Green Revolution in this part of the country is enormous.

But thanks to National Rural Employment Gurantee Scheme and the anti-Bihari campaign in Maharashtra farmers are, for now at least, avoiding to step out of the state for work. True there is no Thackerays in Punjab, but these labourers now think that it is better to have one bird in hand rather than two in bush.
The irony is that NREGA is still not being properly implemented and there is complaints of corruption in the scheme. Had it been implemented in much better way
then the scene would have been quite different. Anyway farmers of Punjab and Haryana will have to go for an alternative.

Now the politicians from these affluent states will pull all shots to reverse the migration back to their states. This will include blaming the implimentation of NREGA, and finally stopping NREGA in Bihar. At least now people of Bihar should know why they are poor. They have been deliberately kept poor. Green revolution happened in Punjab, Haryana and other states but Bihar was deliberately left out. There are recurrent floods in Bihar but Indian Government has not shown any interest to talk to Nepal for building dams and hydel project. They know that once Bihar becomes self relient and prosperous its people will not go to Punjab, Haryan, Mumbai and Assam. This will affect the agriculture and Industry there. Selfish people have time and again scuttled any good project, be it power, agriculture or industrial sector in Bihar. Its high time the people of Bihar should revolt and ask for their true return for the service they have provided in building the nation. The central government should also realize that people can't be fooled any more. Nepal has revolted and now they have Maoism there which may go against broad Indian Interests. Should Bihar go in the same direction ? If it does then only Indian Government is to be blamed.

A. Singh