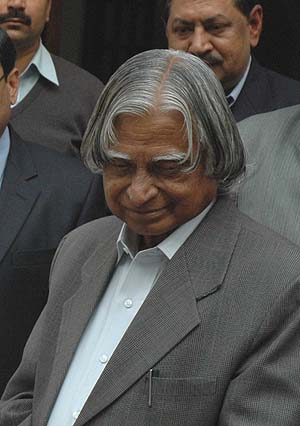 Patna, (Bihar Times): Former President Kalam, who was invited to deliver the key-note lecture in three-day Bihar Science Congress on May 7 would no more be coming to attend it as the state government had withdrawn from the meet. The Congress is being organized by Bihar Brains organization.

Finance Commissioner, Alok Vardhan Chaturvedi, who on Tuesday last was given the additional charge of science and technology flew to Delhi to convey the former President about the reasons behind the state government's decision not to associate with the Congress. A couple of days back Kalam had confirmed his participation in the meet, which is to be attended by about 300 scientists from prestigious institutes of the world.
Reports say that the officials attribute growing heat and examination season as the factors responsible for the governemtn's withdrawal from the Congress, but the truth is something different. The government is, in fact, angry over the manner in which the former President was invited without following the protocol and necessary procedures.

It was because of this that Ajay Kumar , the then Science and Technology secretary was shifted from the department. Nitish Kumar was also not happy with the frequent invitation to man like Kalam's stature as his visit requires security arrangements. It is Kumar, who asked Chaturvedi to personally go to Delhi and apprise Kalam of the matter.

Officials said that the government would organize the Congress afresh if it felt the need to do so. A letter has been issued to all those concerned with the meet.
The organiser of the conference Bibhuti Bikramaditya informed Bihar Times on phone that the fuction would go as per the announced schedule at S K Memorial Hall. Dr. S. E. Hasnain, the Vice Chancellor, Hyderabad University would be the Chief guest of the function. A host of scholars who would present their paper include Animesh Jha from univ. of Leeds, Ashish Kumar from univ. of Oxford, UK, Ajay Jha from USA and many teachers and scientists from different universities of the country.
However, the decision to withdraw from the Bihar Science Congress at the eleventh hour exposed the anarchy in the state government machinery after the April 13 cabinet reshuffle. How can the government remain unaware of the Congress and invitation to the former President?